About Us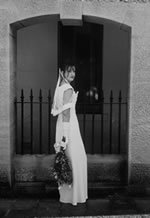 "Even though fashion changes and your wardrobe updates, your wedding dress is the one gown that is sentimental and that you'll have forever. It is the one dress you'll own that is timeless.
Bridal couture always had an appeal to me because of its creativity. The beadwork, textures, appliqués, fabrics, and laces, letting you create something spectacular from just an idea."
My mother was a seamstress and made all of my clothes... and I loved fashion… it seemed like the perfect fit."
-
Connie Di Genni -
Since those early days, I've now got 25 years of experience as a bridal couture seamstress and consultant, specialising in made to measure and alteration as well as designing my own gowns under 'Connie's Bridal'
I have now decided to take my belief in the perfect bridal gown to a new level with Accapella. This is my own bridal boutique, where I will be importing and stocking internationally renowned labels and dresses that are only of the highest quality and nothing less than stunning.
I do not believe that when it comes to your wedding dress one size fits all, so as it has been for many years, you will have all your one-to-one consultations with me and we can make the gown your own.
I'll be able to fit your dress to your body shape with the design inspiration for your wedding in mind. We can take a new dress or design and make it your own, or we can recreate your mother's bridal gown to be yours forever.
Any alterations to your gown will be done by me personally, ensuring that you have the perfect fit on your day. To deliver you the best service possible, all consultations are by appointment only.
My goal is to help create for you the bridal gown you imagined - that will fit seamlessly and age timelessly.
Connie x
Virtual walk through of our Bridal Store